DYNAMiX Technologies has pioneered an intelligent, continuously querying, real time technology that matches information based on its intended use and meaning. The result allows application users to quickly and accurately find what they are looking for in complex, real time environments. Our technology was created in response to the imperative to manage large, dynamic, complex real time data streams from multiple and disparate sources. Previously, no technology has been able to manage the complexity and the information management demands placed on today's enterprises.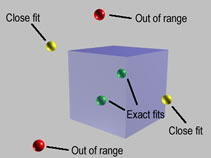 Conventional database technology, data mining tools and business analytics simply cannot meet the new benchmarks being established by DYNAMiX Technologies in real world environments. Our technology will not only solve many information management problems but it will enable a new class of business process applications, creating new revenue streams while saving millions of dollars.

Unlike existing solutions, Intelligent Matching overcomes the challenges associated with processing multiple dynamic streams of complex, un-cleansed data without the need for offline analysis.
Intelligent
Matching Engine

The Intelligent Matching Engine is standards-compatible software component at the core of enterprise applications. Developers can build powerful, real-time business applications with the Intelligent Matching Engine. The Matching Engine's ability to identify approximate matches of complex data in real-time allows solutions not possible with conventional technology.
Embedded
Matching Object

The Intelligent Matching Engine can also be directly integrated into new and existing applications. The Dynamix SDK allows developers to leverage the power of the Intelligent Matching Engine via an intuitive Java SDK.
DYNAMiX
Technology Suite


Accelerate the deployment of real-time applications with the DYNAMiX Technology Suite. It provides additional system-level resources that tightly link with DYNAMiX's Intelligent Matching Engine.